By Lambert Strether of Corrente.
Bird Song of the Day
Media notes: "Trilling made by a chick which has just left the nest hollow for good and is taking its first flights. At least one if not both of the adults were present the entire time while the chick left the nest and climbed higher up the nest tree. Occasionally one of the adults would fly further afield only to return. The adults did not vocalise. The chick eventually flew into one of the nearby trees (paperbark)."
* * *
#COVID19
Patient readers, I have started to revise this section, partly to reduce my workload, but partly to focus more as an early warning, if that is possible. Hopefully I will have a variant tracker map soon. In the meantime, I added excess deaths.
Coercion works? Or boosters? (I have also not said, because it's too obvious, that if by Bubba we mean The South, then Bubba has done pretty well on vax.)
57.1% of the US is fully vaccinated (CDC data. Mediocre by world standards, being just below Czech Republic, and just above Turkey, as of this Monday). We are back to the stately 0.1% rise per day. I would bet that the stately rise = word of mouth from actual cases. However, as readers point out, every day those vaccinated become less protected, especially the earliest. So we are trying to outrun the virus…
Case count by United States regions: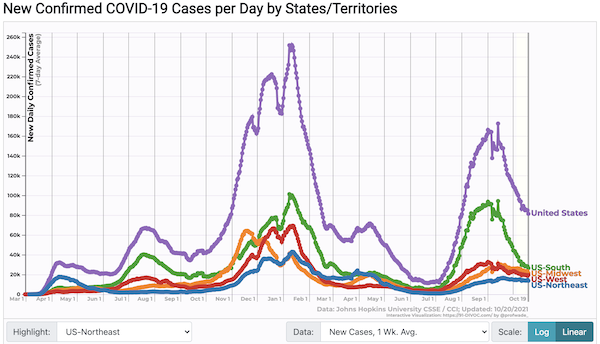 Let's hope they start going steadily down again.
Simply tape-watching, this descent is as steep as any of the three peaks in November–January. It's also longer than the descent from any previous peak. We could get lucky, as we did with the steep drop after the second week in January, which nobody knows the reasons for, then or now. Today's populations are different, though. This population is more vaccinated, and I would bet — I've never seen a study — that many small habits developed over the last year (not just masking). Speculating freely: There is the possibility that natural immunity is much, much greater than we have thought, although because this is America, our data is so bad we don't know. Also, if the dosage from aerosols drops off by something like the inverse square law, not linearly, even an extra foot of social distance could be significant if adopted habitually by a large number of people. And if you believe in fomites, there's a lot more hand-washing being done. On the other hand, Delta is much more transmissible. And although readers will recall that I have cautioned against cross-country comparisons, I'm still not understanding why we're not seeing the same aggregates in schools that we've see in Canada and especially the UK, although we have plenty of anecdotes. Nothing I've read suggests that the schools, nation-wide, have handled Covid restrictions with any consistency at all. So what's up with that?
Even if hospitalizations and the death rate are going down, that says nothing about Long Covid, the effect on children, etc. So the numbers, in my mind, are still "terrifying", even if that most-favored word is not in the headlines any more, and one may be, at this point, inured.
MWRA (Boston-area) wastewater detection: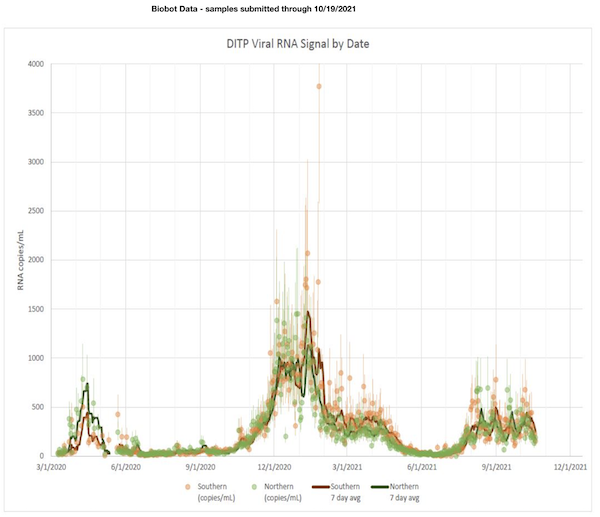 The Massachusetts Water Resources Authority (MWRA) service area includes 43 municipalities in and around Boston, including not only multiple school systems but several large universities. Since Boston is so very education-heavy, then, I think it could be a good leading indicator for Covid spread in schools generally.
From CDC: "Community Profile Report October 19, 2021" (PDF), "Rapid Riser" counties: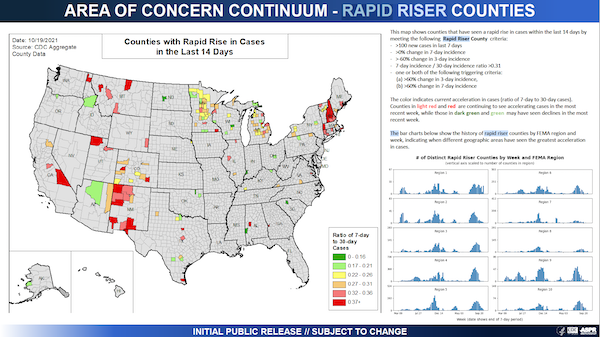 Flare-ups in New Mexico, Montana, California (and central Maine):
Speculating freely: One thing to consider is where the red is. If air travel hubs like New York City or Los Angeles (or Houston or Miami) go red that could mean (a) international travel and (b) the rest of the country goes red, as in April 2020 and following. But — for example — Minnesota is not a hub. If Minnesota goes red, who else does? Well, Wisconsin. As we see. Remember, however, that this chart is about acceleration, not absolute numbers. This map, too, blows the "Blame Bubba" narrative out of the water. Not a (Deliverance-style) banjo to be heard. (Red means getting worse, green means bad but getting better.)
I guess I have to go back to showing the previous release:
Hospitalization (CDC Community Profile):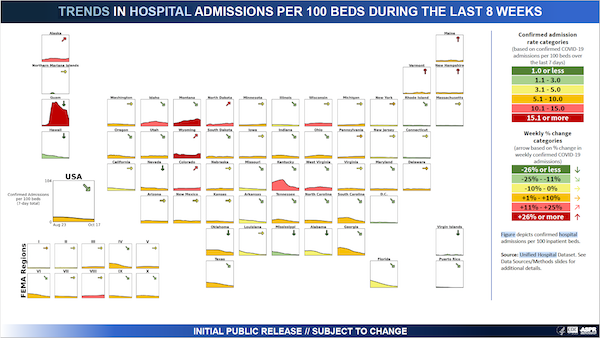 Death rate (Our World in Data):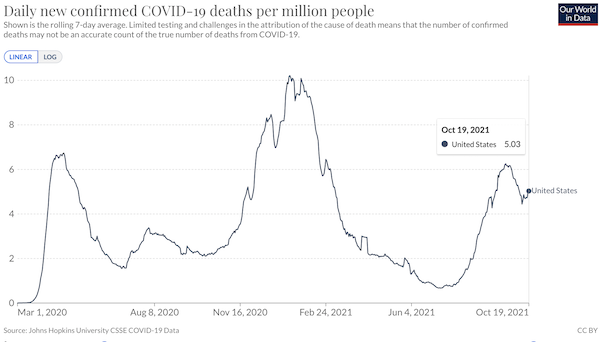 Total: 748,827 746,529. The upward trend in death rate begins anew. We had approached the same death rate as our first peak last year. Which I found more than a little disturbing.
Excess deaths (total, not only from Covid), for which I should give a hat tip to an alert readers, but cannot find their mail. Take a bow in comments, whoever you are!
(Adding: I know the data is bad. This is the United States. But according to The Narrative, deaths shouldn't have been going up at all. Directionally, this is quite concerning. Needless to see, this is a public health debacle. It's the public health establishment to take care of public health, not the health of certain favored political factions. Also adding: I like a death rate because it gives me a rough indication of my risk should I, heaven forfend, end up in a hospital. I should dig out the absolute numbers, too, now roughly 660,000, which is rather a lot.)
Covid cases in historic variant sources, with additions from the Brain Trust: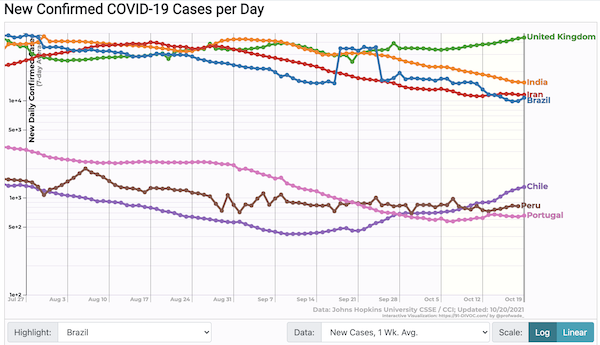 Chile and Peru rising. Chile especially not looking good. Remember this is a log scale. Sorry for the kerfuffle at the left. No matter how I tinker, it doesn't go away.
* * *
Politics
"But what is government itself, but the greatest of all reflections on human nature?" –James Madison, Federalist 51
"They had one weapon left and both knew it: treachery." –Frank Herbert, Dune
"They had learned nothing, and forgotten nothing." –Charles Maurice de Talleyrand-Périgord
Biden Administration
"Biden discusses $1.9 trillion top line for economic package and tells Democrats free community college is out" [CNN]. "President Joe Biden informed House progressives Tuesday afternoon that the final bill to expand the social safety net is expected to drop tuition-free community college, a major White House priority, according to multiple sources familiar with the matter. And the President discussed price tag [over ten years] for the sweeping spending package, according to a person familiar with the talks. While the number is not finalized, it is far closer to West Virginia Democratic Sen. Joe Manchin's $1.5 trillion top line [over ten years] than progressives' number, which was $3.5 trillion [over ten years]. Moreover, he indicated that the child tax credit — a key Democratic priority — would likely be extended for one additional year, much shorter than what many in their party wanted, one of the sources said. The child tax credit will also likely be means tested, keeping with what Manchin had wanted. Biden also indicated to the group that they would reduce the proposed funding for so-called homecare for the elderly and disabled — down to less than $250 billion, sources said. Democrats had wanted to keep the funding at $400 billion. The President told progressive lawmakers that negotiators are weighing reducing the duration of the paid leave benefit outlined in the package to four weeks, down from a proposed 12 weeks, according to three sources familiar with the meeting." • Maybe we should have checked with President Manchin first. Like during the campaign. Now Joe Biden owes me a lot more than six hundred bucks. (Adding, I think what LBJ would have done: Nominated Manchin for Secretary of Energy, then strangled him with lower-level political appointees who would report to Manchin only nominally. Of course, that assumes that what we are seeing is something other than the outcome desired by Democrat leadership.)

"Biden Concerned Ambitious Agenda Could Be Stalled By Him Not Really Caring If It Happens Or Not" [The Onion]. • From May. Still germane. Commentary:

biggest strategic error from Biden was letting congressional Dems dick around with this thing for 7 months. incomprehensible squabbling sapped his approval and made the party look like incompetent imbeciles https://t.co/iS2i0wy2EV

— ryan cooper (@ryanlcooper) October 20, 2021

If error it was. Ugliest example of Lucy and the Football I've ever seen. She can't even tee the ball up, and Charlie Brown falls over anyhow.

"Jayapal hails Biden as 'mediator in chief' after spending talks" [Washington Examiner]. "Addressing reporters outside the White House, the congresswoman from Washington state was asked how she would describe Biden in his role as president, to which she gave a rave review….. 'The president is the inspirer, he is the closer, he is the convincer, the mediator in chief,' Jayapal said. 'He really is doing a phenomenal job.'" • I understand the tactics of Jayapal showing no daylight between herself and Biden. But she didn't have to humiliate herself.

"Dems edge closer to ditching disarray" [Politico]. "With their party's long-sought priorities on the line, the speaker and Senate majority leader are hustling to clinch a deal as soon as possible that would lock in evasive centrists on a framework for President Joe Biden's [over ten years] package. That framework, in turn, would free up needed progressive votes for a bipartisan infrastructure bill by Oct. 31." • At some point, it's not worth it. Let President Manchin write the bill and vote Present. More: "Though the odds are still stacked against the party, Democrats say it's clear there's a renewed sense of urgency among party leaders. Schumer is nudging his holdouts more than ever before, Pelosi is free from the constraints of an agreement with moderates that imploded and Biden is finally engaged in a meaningful way. Plus, nearly everyone has accepted the bill won't be $3.5 trillion, as originally proposed." • Maximum fundraising, minimum governance, rotating villains. There's no disarray at all, or no more than usual. Both Manchin and Sinema are creatures of the DSCC; this is the party Pelosi and Schumer built.

"Democratic lawmakers ask Justice Roberts for info on judicial conflict failures" [Reuters]. "Two Democratic lawmakers on Thursday asked U.S. Supreme Court Chief Justice John Roberts for information on failures by judges to recuse themselves from cases in which they had financial conflicts as they questioned whether he had done enough to enforce ethics rules. Senator Elizabeth Warren of Massachusetts and U.S. Representative Pramila Jayapal of Washington cited as a reason for their concerns a Wall Street Journal report that 131 judges failed to recuse themselves from cases involving companies in which they or their family members owned stock. The lawmakers in a letter to Roberts, in his role as the presiding officer of the U.S. Judicial Conference, the judiciary's policymaking body, said the 'stunning' report 'will justifiably reduce public confidence in the justice system.' They cited other instances in which Supreme Court justices similarly did not recuse themselves from cases despite potential financial conflicts as further evidence of a "systemic failure that requires accountability.' 'These extensive ethics breaches are, at least in part, a direct result of the inadequate processes for judicial accountability," the lawmakers said in the letter.'" • Congress plays the ponies. Why not judges?
Republican Funhouse
Seriously, but not literally. One hopes:

Political identities are getting funnier pic.twitter.com/ealIuKU8FY

— Aparición 👻 (jalohuín) (@ElParece) October 19, 2021
Democrats en Deshabille
"US politics: Virginia governor's race offers first test of Biden presidency" [Financial Times]. "At a corn maze and pumpkin patch in northern Virginia this month, former Carlyle chief executive Glenn Youngkin set out his stall. Dressed in a Nantucket red fleece vest, navy trousers and a white collared shirt, the private equity boss turned politician confidently told hundreds of supporters that next month, he would be elected Virginia's new governor. 'We stood up, and we said, you know what? We are going to absolutely reject this left, liberal, progressive policy agenda,' Youngkin said to cheers." • Democrats are. So why not elect a real Republican instead of a fake one?

"Iowa Democratic Party chair reports lynching threat after writing op-ed critical of Donald Trump" [Des Moines Register]. "Iowa Democratic Party Chair Ross Wilburn received multiple threats, including one of lynching, after he penned an opinion piece critical of former President Donald Trump, he told the Des Moines Register…. After the essay's publication, Wilburn said he received two threatening phone messages and one threatening email to his legislative email address, which all made reference to what he wrote in the article…. 'I'm concerned about this type of escalation of comments, including violent references, that are happening, even down to some of the school board meetings and elections that are coming up,' he said. '… If anyone's ever subject to these types of threatening actions, I encourage them to don't just sit by and take it. Report it.'" • Wilburn is saying, in essence, that the threats were "inappropriate," which indeed they are; at some point, somebody's gonna get whacked, or a building blown up. But the way I read this is that conservatives are more serious about their politics; they would prefer to be the ones to whom things are reported, rather than doing the reporting. At some point, probably when it's too late, the Democrats will discover that they needed a militant wing. But who on earth would defend them, and why?
Realignment and Legitimacy
Stats Watch
There are no official statistics of note today.
* * *
Commodities: "Dune Is the Sci-Fi Epic Commodities Traders Have Always Wanted" [Bloomberg]. "At its heart is the spice—the reason Arrakis is so valuable, the (nominal) reason the Atreides are sent there, and the reason the house's bitter rivals, the Harkonnens, are so keen to wrest the planet back from them. It's here that the eyes of any commodities traders in the audience will light up as they realize, for what seems like the first time, there's a blockbuster tailored to their exact interests." And the ending: "[W]hile not every element manages to come together perfectly, the framing does provide a solid bedrock for the action playing out on screen, as well as an opportunity to reflect on the economic systems that shape our world. If greed is intrinsic to capitalism and inevitably leads to conflict and inequality, that, and sandworms, should be avoided at all costs." • Er, have the traders priced this in?
Commodities: "Unhappy with prices, ranchers look to build own meat plants" [Associated Press]. "Like other ranchers across the country, Rusty Kemp for years grumbled about rock-bottom prices paid for the cattle he raised in central Nebraska, even as the cost of beef at grocery stores kept climbing. He and his neighbors blamed it on consolidation in the beef industry stretching back to the 1970s that resulted in four companies slaughtering over 80% of the nation's cattle, giving the processors more power to set prices while ranchers struggled to make a living. Federal data show that for every dollar spent on food, the share that went to ranchers and farmers dropped from 35 cents in the 1970s to 14 cents recently. It led Kemp to launch an audacious plan: Raise more than $300 million from ranchers to build a plant themselves, putting their future in their own hands. 'We've been complaining about it for 30 years,' Kemp said. 'It's probably time somebody does something about it.' Crews will start work this fall building the Sustainable Beef plant on nearly 400 acres near North Platte, Nebraska, and other groups are making similar surprising moves in Iowa, Idaho and Wisconsin. The enterprises will test whether it's really possible to compete financially against an industry trend that has swept through American agriculture and that played a role in meat shortages during the coronavirus pandemic."
Shipping: "They've been stuck for months on cargo ships now floating off Southern California. They're desperate" [Los Angeles Times]. "Some 300,000 of these migrant merchant sailors have been stranded on vessels at sea or in ports around the world, according to the International Transport Workers' Federation, a London-based trade union that is among the maritime agencies lobbying governments to address what's been labeled the "crew-change crisis." They endure unbroken monotony and growing desperation. Their unions and charity groups describe exhaustion, despair, suicide and violence at sea, including at least one alleged murder on a cargo ship headed to Los Angeles…. Imagine weeks at sea or at anchor without the ability to contact loved ones, spotty Wi-Fi connections at ports, living on a food budget that amounts to $7.50 per person, per day. Imagine living in cramped quarters, confined to a 680-foot by 98-foot ship for months longer than you agreed to, your direct contact limited to a couple of dozen other crew members. And the coronavirus has added a two-fold stress increase." • See NC on the crew change crisis here. For a crisis, it's been going on a long time. Maybe it's a new normal?
The Bezzle: "Canon makes 'all-in-one' printers that refuse to scan when out of ink, lawsuit claims" [The Register]. "Canon USA has been accused of forcing customers to buy ink cartridges when they only want to scan and fax documents using the manufacturer's so-called All-In-One multi-function printers." • Some marketing guy dreamed this up, managers approved, programmers coded it, and project managers wrangled it. If the consequences weren't relatively trivial, I'd call this an atrocity.
Tech: "Explainer: What is the "metaverse"?" [Reuters]. "The idea of the metaverse is that it will create new online spaces in which people's interactions can be more multi-dimensional, where users are able to immerse themselves in digital content rather than simply viewing it." • In other words, the metaverse is a way for Silicon Valley to manipulate the dopamine loop even more brutally than it does now. But no pr0n. Right?
Tech: "Facebook is planning to rebrand the company with a new name" [The Verge]. "Facebook is planning to change its company name next week to reflect its focus on building the metaverse, according to a source with direct knowledge of the matter. The coming name change, which CEO Mark Zuckerberg plans to talk about at the company's annual Connect conference on October 28th, but could unveil sooner, is meant to signal the tech giant's ambition to be known for more than social media and all the ills that entail. The rebrand would likely position the blue Facebook app as one of many products under a parent company overseeing groups like Instagram, WhatsApp, Oculus, and more. A spokesperson for Facebook declined to comment for this story. Facebook already has more than 10,000 employees building consumer hardware like AR glasses that Zuckerberg believes will eventually be as ubiquitous as smartphones." • I can't imagine anything less attractive than a dystopia designed by Mark Zuckerberg. I mean, as opposed to the one we're living in now:
@simonstalenhag predicted the @Facebook metaverse

From https://t.co/RvtBtvhpEG pic.twitter.com/jnVTJYryBE

— made of time said (@tristanbergh) October 20, 2021
Tech: "Mark Zuckerberg will be added to a Facebook privacy lawsuit." [New York Times]. "The attorney general for the District of Columbia plans to add Facebook's chief executive, Mark Zuckerberg, to a consumer protection lawsuit, in one of the first efforts by a regulator to expose him personally to potential financial and other penalties. The attorney general, Karl Racine, said on Tuesday that continuing interviews and reviews of internal documents for the case had revealed that Mr. Zuckerberg played a much more active role in key decisions than prosecutors had known…. Facebook's lawyers have been particularly combative about attempts to name Mr. Zuckerberg in previous regulatory actions. In 2011 and in 2019, its lobbyists and lawyers fought back attempts by the F.T.C. to name him as a respondent in privacy cases. The company succeeded in keeping its chief executive off a $5 billion settlement with the F.T.C. in 2019. As a respondent, Mr. Zuckerberg could be exposed to financial penalties. Mr. Racine can seek up to $5,000 for any of the district's 300,000 residents who may have been affected by the Cambridge Analytica data privacy violation."
Tech: This things are getting such good press, you wonder if there's product placement going on:
A robotic dog stole the limelight at the Milipol defense and security trade fair near Paris, which showcases technological innovations in defense and security equipment pic.twitter.com/UCWDRIwxgN

— Reuters (@Reuters) October 20, 2021
I mean, they only "stole the limelight" because the press said so. Kill them with fire.
* * *
Today's Fear & Greed Index: 68 Greed (previous close: 62 Greed) [CNN]. One week ago: 32 (Fear). (0 is Extreme Fear; 100 is Extreme Greed). Last updated Oct 20 at 12:30pm. Perhaps Mr. Market is in his happy space because Build Back Better is no longer a thing?
Health Care
"Modeling SARS-CoV-2 RNA Degradation in Small and Large Sewersheds" (preprint) [medRxiv]. From the Abstract: "Wastewater-based epidemiology has been at the forefront of the COVID-19 pandemic, yet little is known about losses of SARS-CoV-2 in sewer networks. Here, we used advanced sewershed modeling software to simulate SARS-CoV-2 RNA loss in sewersheds across Houston, TX under various temperatures and decay rates. Moreover, a novel metric, population times travel time (PT), was proposed to identify localities with a greater likelihood of undetected COVID-19 outbreaks and to aid in the placement of upstream samplers. Findings suggest that travel time has a greater influence on viral loss across the sewershed as compared to temperature. SARS-CoV-2 viral loss at median travel times was approximately two times greater in 20°C wastewater between the small sewershed, Chocolate Bayou, and the larger sewershed, 69th Street. Lastly, placement of upstream samplers according to the PT metric can provide a more representative snapshot of disease incidence in large sewersheds." • Eew, a model. Still, the parameters are worth thinking about in relation to MWRA results, all of which are at the end of long-ish or really long pipes on Deer Island.
Groves of Academe
No:
Some days I am just so humbled by college administrators like these who think outside of the box, innovate, and do more with less. I mean they could have at least offered to pay faculty and staff, but they went full volunteer and didn't even offer any research or travel $. 👏 👏 https://t.co/NCL6BoRVMX

— Associate Deans (@ass_deans) October 19, 2021
Class Warfare
"Pitt faculty votes to unionize in landslide election" [Post-Gazette]. "Faculty at the University of Pittsburgh will be forming a union, capping a five-year organizing campaign with an overwhelming vote in favor of joining the United Steelworkers. The final tally Tuesday showed that 1,511 faculty members, or 71% of those who cast ballots, voted in favor of a union, while 612 members, or 29%, voted against. … Pitt's faculty union will become the largest new union of any kind in the country this year, organizers said, with more than 3,000 people represented across all five of the university's campuses. The union includes all full-time and tenured professors, as well as some part-time faculty."
News of the Wired
"Researchers make hardened wooden knives that slice through steak" [Phys.org]. "'Cellulose, the main component of wood, has a higher ratio of strength to density than most engineered materials, like ceramics, metals, and polymers, but our existing usage of wood barely touches its full potential,' [Teng Li, the senior author of the study and a materials scientist at the University of Maryland] says. Even though it's often used in building, wood's strength falls short of that of cellulose. This is because wood is made up of only 40%–50% cellulose, with the rest consisting of hemicellulose and lignin, which acts as a binder. Li and his team sought to process wood in such a way to remove the weaker components while not destroying the cellulose skeleton. 'It's a two-step process,' says Li. "In the first step, we partially delignify wood. Typically, wood is very rigid, but after removal of the lignin, it becomes soft, flexible, and somewhat squishy. In the second step, we do a hot press by applying pressure and heat to the chemically processed wood to densify and remove the water.'" And: "The first step requires boiling the wood at 100° Celsius in a bath of chemicals…" And: "After the material is processed and carved into the desired shape, it is coated in mineral oil to extend its lifetime." • So it might be possible to do this at home?
* * *
Readers, feel free to contact me at lambert [UNDERSCORE] strether [DOT] corrente [AT] yahoo [DOT] com, with (a) links, and even better (b) sources I should curate regularly, (c) how to send me a check if you are allergic to PayPal, and (d) to find out how to send me images of plants. Vegetables are fine! Fungi and coral are deemed to be honorary plants! If you want your handle to appear as a credit, please place it at the start of your mail in parentheses: (thus). Otherwise, I will anonymize by using your initials. See the previous Water Cooler (with plant) here. Today's plant (Henry Moon Pie):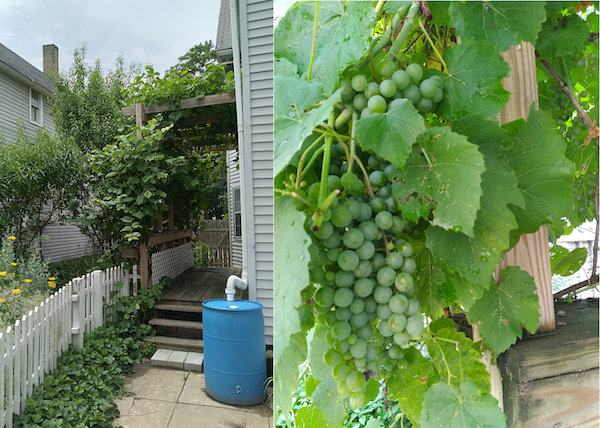 Fruits of labor: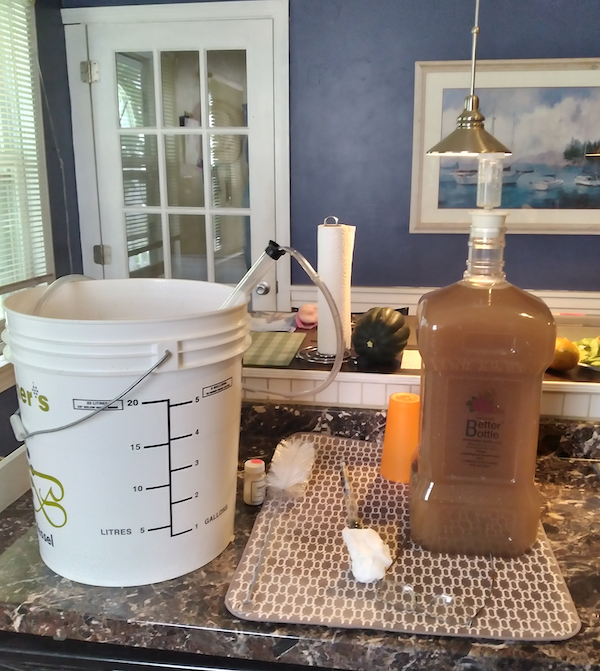 Henry Moon Pie writes:
These are pictures of our Cayuga White grape vines in June, grapes on the vine in July, and a carboy full after siphoning from the primary fermentation bucket yesterday. There was not enough room in the 3.5 gallon carboy for all of the original 4 gallons of must. I'll now wait for it to settle and clear before bottling. Given the bounty, I hope to have a couple of slower ripening grapes to toss into a couple of bottles with a little more yeast to make a couple of bottles of sparkling wine.

We planted 3 bareroot grape vines in '17. In '19, I fermented about 1.5 liters in a large, upright vase. Last year, we made about 2 gallons with the pictured kit. This year, the birds and chipmunks had already been feasting, and still I had more grapes than I could use.

The problem: the invasive Asian Spotted Lanternfly, fond of grapes and the hops I have growing up the west side of the house, has been found within a mile of here in the last week.
Do we have any other winemakers in the readership? (I always wanted to get into distilling, because the process was so attractive, but that wouldn't have been legal….)
* * *
Readers: Water Cooler is a standalone entity not covered by the recently concluded and — thank you! — successful annual NC fundraiser. So if you see a link you especially like, or an item you wouldn't see anywhere else, please do not hesitate to express your appreciation in tangible form. Remember, a tip jar is for tipping! Regular positive feedback both makes me feel good and lets me know I'm on the right track with coverage. When I get no donations for five or ten days I get worried. More tangibly, a constant trickle of donations helps me with expenses, and I factor in that trickle when setting fundraising goals:
Here is the screen that will appear, which I have helpfully annotated.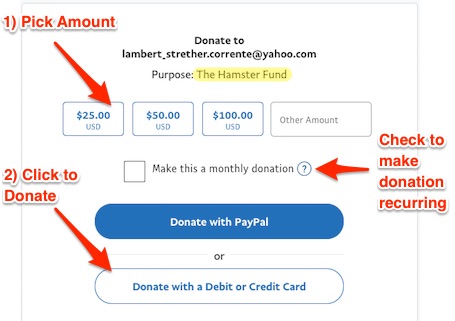 If you hate PayPal, you can email me at lambert [UNDERSCORE] strether [DOT] corrente [AT] yahoo [DOT] com, and I will give you directions on how to send a check. Thank you!2:00PM Water Cooler 6/8/2021