Everyone likes Wi-Fi, but who hasn't encountered the problem that Wi-Fi signals cannot pass through walls or reach the other end of the office or house? Wi-Fi is also power hungry, draining cell phone batteries and other battery-powered devices such as cameras and doorbells.
Morse Micro, based in Sydney, is a five-year-old company dedicated to solving some of the biggest problems with Wi-Fi. As it expands overseas and paves the way for the next generation of Wi-Fi-based Internet of Things technology, this startup has made significant progress in Wi-Fi-based Internet of Things (IoT).
Morse Micro was founded by Michael De Nil and Andrew Terry, the two chief engineers met while working at the global semiconductor company Broadcom, where they led the design of Wi-Fi chips for more than 1 billion iPhone shipments.
Joining them is an early employee and investor, Professor Neil West, one of the original Wi-Fi inventors and the founder of Radiata, an Australian Wi-Fi chip company that made the world's first A Wi-Fi 802.11a chipset; Radiata was sold to Cisco in 2001 for $570 million.
"Morse Micro is a fabless semiconductor company developing a new generation of remote Wi-Fi chips," said Michael De Nil Dynamic business An exclusive interview at their new office in Bangalore.
"We are headquartered in Australia, with offices in the United States, China, and now India. We have brought together the smartest engineers from all over the world. Today, there are more than 30 people of different nationalities in our organization. Most people moved to Sydney to reinvent Wi-Fi for the Internet of Things with us."
Smarter, farther and better
Morse Micro provides Wi-Fi HaLow (pronounced HEY-low) system-on-chip (SoC) and module solutions that comply with the IEEE 802.11ah standard. The coverage of these Wi-Fi chips is much longer than traditional Wi-Fi, allowing connections across walls and floors in residential, retail, office park, campus, warehouse, and factory environments.
"Wi-Fi Halow operates at a lower frequency; traditional Wi-Fi operates at 2.4 GHz, 5 GHz, and now 6 GHz, while Wi-Fi Halow operates at less than 1 GHz," Michael said.
"Our Wi-Fi chip can stream video with a transmission distance of more than 1 kilometer, and the power consumption is ultra-low, allowing the device to run longer."
"The product developed by Morse Micro is a new-generation Wi-Fi chip with a coverage area ten times that of traditional Wi-Fi. Therefore, if you consider two dimensions, the coverage area will be 100 times that of traditional Wi-Fi. If you consider In all three dimensions, you will cover 1,000 times the capacity of traditional Wi-Fi," Michael said.
"So, for example, in warehouses, supermarkets, hotels, or multi-storey office buildings, you can use one access point to cover the entire building."
Morse Micro released two products-MM6104 and MM6108-both targeting the Wi-Fi HaLow standard. The MM6104 product is geared towards a wide range of devices, while the MM6108 chip provides double the throughput and is designed for high-end use cases such as security systems and high-definition video streaming.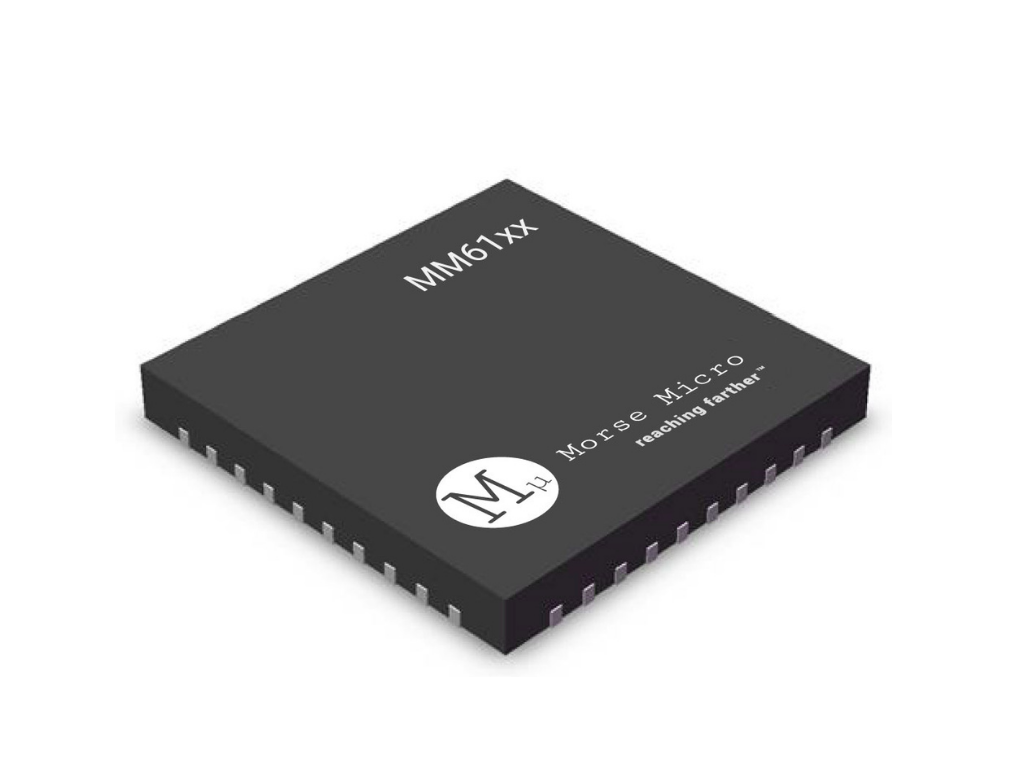 Can't replace traditional Wi-Fi
Michael explained that Wi-Fi HaLow is not meant to replace the existing Wi-Fi, it can now be found in every cell phone, laptop or access point. Instead, Wi-Fi HaLow is a supplement to existing Wi-Fi and will be widely used in IoT applications.
The dawn of a new era
Wi-Fi HaLow technology is expected to provide support for a wide range of new IoT use cases, including sensors, remote metering, telemetry and agricultural applications, as well as industrial IoT.
Michael believes that due to this new technology, a large number of new devices will appear. "Wi-Fi HaLow is an enabling technology. Today, we are studying products already on the market and integrating our chips into them, just like standard Wi-Fi, but the vast majority of sales will come from new use cases And equipment, this is Wi-Fi that the short-distance traditional cannot achieve," he said.
"No other wireless technology can provide you with the range and throughput that Wi-Fi HaLow can provide."
Some of these applications are:
Wi-Fi HaLow in the retail industry – Store managers can use Wi-Fi HaLow for new retail technologies, including digital signage, electronic shelf labels, portable scanners, smart labels, smart lighting, and cameras.
Wi-Fi HaLow in logistics and asset management – The network infrastructure of a large warehouse must provide sufficient bandwidth and capacity for all equipment on site.
A traditional Wi-Fi network requires the installation and wiring of dozens of Wi-Fi access points in a large warehouse; Morse Micro's Wi-Fi HaLow chip supports more devices (+8000) on the network and has a longer coverage area. Fewer access points.
Wi-Fi HaLow for access control system – The access control system ensures the safety of resources or facilities and their occupants. Wi-Fi HaLow can reduce the complexity and cost of a project, whether it is a single smart door lock for a home or hundreds of doors for a large hotel or enterprise.
The security system design includes obvious entry points, potential hazards, and constantly changing credentials that define users inside and outside the space.
Wi-Fi HaLow in Industrial Control – Wi-Fi HaLow can enable the Industrial Internet of Things (IIoT) in factories, warehouses and other industrial environments.
Using Wi-Fi HaLow, thousands of battery-powered sensors and actuators can be safely connected to a single access point (AP).
Open up new market space
"Every year, approximately 4 billion Wi-Fi devices are sold. Wi-Fi has a history of more than 20 years, was invented in Australia in the late 1990s, and is still evolving."
In the past 20 years, large chip companies have focused on making Wi-Fi faster, but at the cost of range and power consumption. Today's Wi-Fi does not always work properly in many home, commercial, and industrial environments. By expanding the range to more than 1 km, we have opened up a huge market that traditional Wi-Fi cannot serve.
Wi-Fi HaLow certification
Morse Micro introduced the first HaLow reference design that passed Wi-Fi certification and put it on the market. Wi-Fi certification HaLow is a new certification program for the 802.11ah standard launched by the Wi-Fi Alliance, which aims to achieve rapid mainstream adoption and multi-vendor interoperability.
The new reference design utilizes Morse Micro's MM6108 and MM6104 SoC to provide a single-chip HaLow solution that can achieve data rates of tens of megabits per second.
"One of the main reasons why traditional Wi-Fi is so successful is its standards and certification program. This means that if you buy a new phone, it will work with the Wi-Fi access point you bought ten years ago. It may have a completely different Wi-Fi chip. This is why people want to buy Wi-Fi devices."
"Wi-Fi HaLow follows the same procedure. For the past four years, we have been working with our competitors. Therefore, every Wi-Fi HaLow device will be tested for compatibility with one of our solutions."
"This also means that we have Wi-Fi certified products from the beginning, which means that when you buy a product with our chip, you know that it will use Wi-Fi in the next five, ten, or twenty years. -Fi HaLow compatible access point."
Existing supporters and future plans
Michael said that developing this technology is complicated and requires the participation of the best engineers in the world.
"We now have offices in China, India, the United States and Australia. We intend to continue to expand these teams and hire and introduce the company's best engineers to develop next-generation products that can cover farther and travel faster.
"In the past 2 years, we have expanded from a team of about 20 people to a team of 120 people, and we intend to expand further."
"Our company has some outstanding investors. One of our main investors is Ray Stata [who] He is the founder and chairman of an analog equipment company, one of the world's largest semiconductor companies.
"Besides Ray, we have some incredible investors in Australia, including venture capital firms Main Sequence Ventures and Blackbird Ventures, as well as clean energy finance companies, Uniseed, Skip Capital, etc."
Keep up to date with our story LinkedIn, Twitter, Facebook with Instagram.