To celebrate TAG Heuer's long-standing partnership with the Principality of Monaco, the Swiss luxury watchmaker hosted a glamor party on the iconic Jacques Cartier ship. Moored at the picturesque Port of Monaco, guests were not only treated to with good views but they also mingled around and got a chance to chat with Team Oracle Red Bull Racing's Max VerstappenSergio Pérez and Daniel Ricciardo.
Some of the guests present include VIPs and brand ambassador Wi Ha Juntennis legend Maria Sharapova, actors Tom Holland and Louis Patridge, model Sara Sampaio, French rapper Hatik and boxer Conor McGregor. Australian singer and songwriter Kylie Minogue was also present to give a special performance.
"We are thrilled to be back in the heart of Monaco, celebrating our long-standing relationship with the Principality and our partner, Team Oracle Red Bull Racing, since 2016. As a brand, TAG Heuer draws enormous inspiration from Monaco, the birthplace of our most iconic chronograph, and a track where we have witnessed some of the ultimate exhilarating racing moments over the past decades, not just in Formula 1 but also in Formula E and the Historic Grand Prix." said Frédéric Arnault, TAG Heuer's CEO." We can't wait to kickstart this weekend and support our partner team as well as Max Verstappen and Sergio Pérez on the track this weekend, for what is surely going to be a thrilling performance."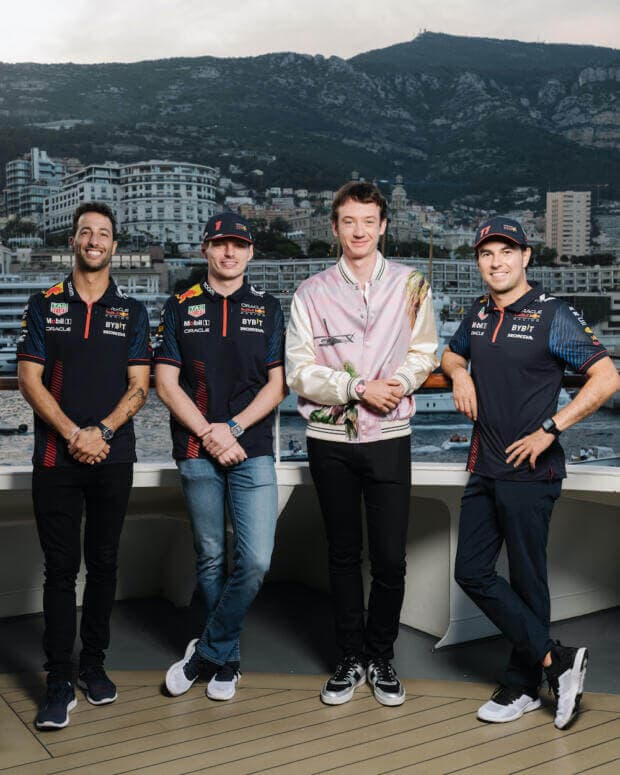 As part of a tradition, CEO Frédéric Arnault gifted exceptional timepieces to both the brand's friends and the most promising drivers in Formula 1 to celebrate their remarkable achievements. Max Verstappen received a personalized version of the latest TAG Heuer release , the exclusive TAG Heuer Monaco Chronograph Skeleton dial timepiece in blue, featuring a captivating skeleton dial with luminescent details. The iconic number "1" of Verstappen is in striking red, and the caseback is inscribed with "One of one," signing its exclusivity for Formula 1's number one driver, with two stars symbolizing Verstappen's championship wins.
On the other hand, for Pérez, TAG Heuer offered a custom turquoise TAG Heuer Monaco Chronograph Skeleton dial watch with a black skeleton dial and vibrant turquoise accents, symbolizing Pérez's resilience. This timepiece features his initials "SP" and the silhouette of the Monaco racetrack on the caseback. The engraved date "29.05.22" commemorates Pérez's previous Monaco Grand Prix victory while the The inscription of his motto, "Never give up," reflects his indomitable spirit as a racing driver.
Through this unforgettable evening, TAG Heuer reinforced its strong bond with the Principality of Monaco and honored its historic connection to motor racing. The brand took great pleasure in sharing this occasion with cherished friends, partners, and esteemed VIP guests, igniting the unparalleled atmosphere that sets the tone for the eagerly anticipated racing weekend of the F1 Monaco Grand Prix year after year.
For more F1 reads, click here.