The sales of Scotch single malt whisky around the world continue to grow at an unprecedented pace. From people discovering their first ever whisky to the seasoned collector or connoisseur, Scotch single malt is booming like never before. But who are the biggest players that dominate the scene?
Seven of the top 10 come from the Speyside region – home of a lovely soft, sweet and approachable style of single malt. The Hebridean islands and their 'love them or hate them' smoky whiskies are also represented. A sole distillery from the Highlands completes the set. Does your favourite make the list?
Aberlour
The Speyside village of Aberlour is home to two world-famous whisky brands: Walker's Shortbread and Aberlour single malt. The distillery was founded by local businessman James Fleming in 1879. He also invested money into the village's electricity supply, hospital and a bridge over the River Spey.
Fast forward to today and Aberlour has solidly sat within the top 10 of single malt sales since the 1980s. Its emphasis on ex-sherry cask maturation has made it popular in Europe, especially France where it has been the biggest Scotch single malt for years.
Balvenie
Nestled on the edge of Dufftown, Speyside's whisky capital, sits the Balvenie distillery. It is seen as one of Scotland's most innovative yet traditional distilleries and is one of only two in Speyside to do any of its own floor malting.
Balvenie sales have increased impressively in the last decade, and it has been a permanent fixture in the top 10 during that time. Now it is inching towards the top 5 thanks to an ever-increasing and broad mix of core and limited-edition malts.
Expect soft, characterful and enjoyable award-winning whiskies.
Buy now at The Whisky Exchange
Glenfiddich
When the first spirit came off the stills at Glenfiddich on Christmas Day in 1886, few could have predicted the Speyside distillery's influence on the Scotch whisky industry. They were the first to market themselves as a single malt in the early-1960s, which paved the way for everyone else to follow.
It could be said that without Glenfiddich's foresight we may not have the single malt category as we know it today. Now, an impressive 12.5% ​​of all Scotch single malt purchased around the world is a bottle of Glenfiddich*. True pioneers.
Glen Grant
The Speyside distillery of Glen Grant is hugely popular in southern Europe. Italy is a particular stronghold, where it has long been one of the most popular Scotch single malts – a point recognised by Italian drinks giant Gruppo Campari, who owns it as its only Scotch whisky distillery.
Glen Grant is light, fragrant, delicate and soft with an abundance of green apple and vanilla characteristics. Home to Dennis Malcolm OBE, the legendary Master Distiller who has just celebrated 60 years at Glen Grant and was born on the distillery's grounds.
Buy now at The Whisky Exchange
Glenlivet
Another Speysider that has only Glenfiddich as its main rival. The two giants regularly arm wrestle for first place and the honour of being the world's best-selling single malt whisky. For many years Glenlivet played second fiddle to its bigger neighbour. But sustained and consistent growth, particularly in America, has seen the brand close the gap, draw level and finally overtake in 2015. Now the pair are neck and neck with over 14.5 million bottles sold by both each year*.
A fabulously soft, gentle and easy-drinking whisky.
Glenmorangie
The home of Scotland's tallest single malt stills (just over five metres or 16 feet, if you're wondering – the same height as an adult male giraffe). The stillhouse is arguably one of the greatest in Scotland and resembles a cathedral with six pillars -like stills lined up either side of a central aisle.
Glenmorangie uses hard water to make its whisky, which is a rarity in Scotch, and this bubbles up from the nearby Tarlogie Springs.
An elegant, classy and sophisticated whisky and a definite 'must visit' if you are ever in the north Highlands.
Laphroaig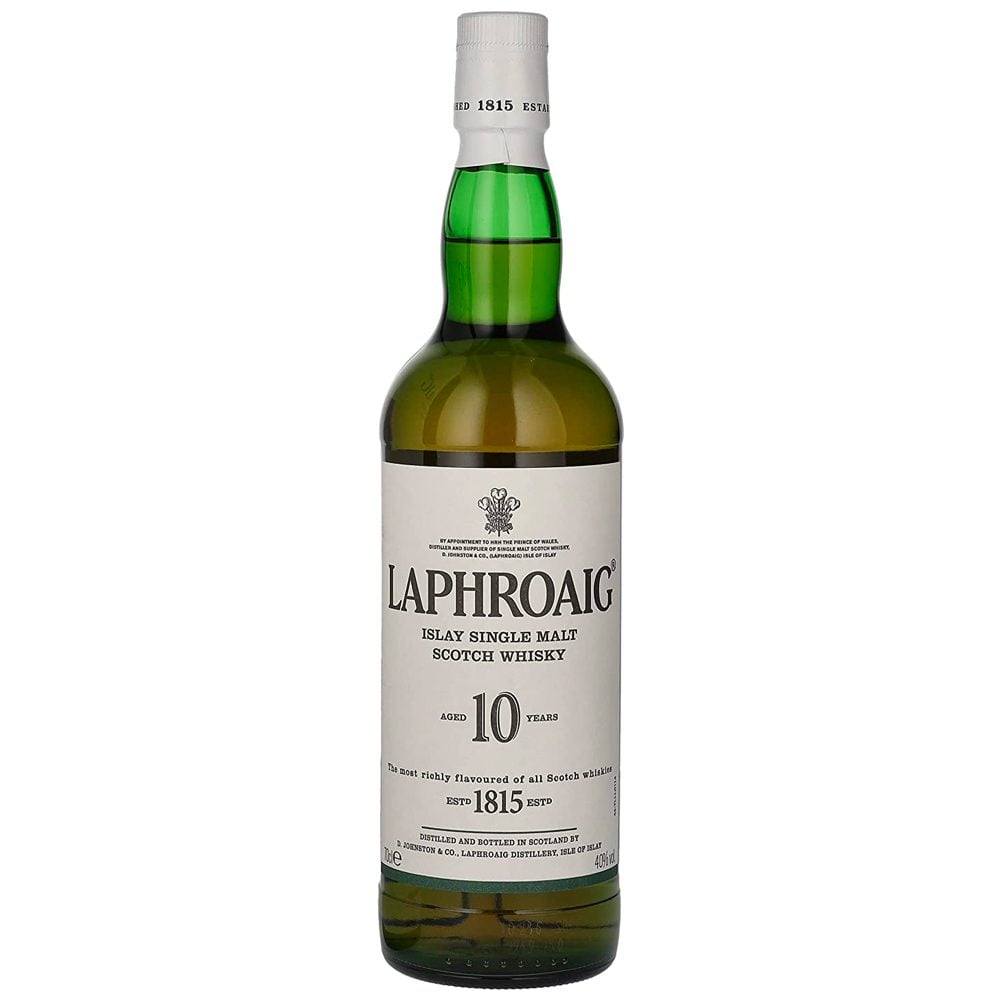 One of two peaty single malts to make our list. Laphroaig is from Islay, the Hebridean island famous for its smoky whiskies. It outsells any other distillery or brand in the peated category by a country mile.
Laphroaig has a loyal following all over the world, proven by the fact that it has over 100,000 members in its Friends of Laphroaig club.
Rich, ionic, earthy, coastal and medicinal are all common descriptors for Laphroaig. This is a whisky that will divide a room, and not one for the faint hearted. If you like big bold flavours, then you will love this.
Macallan
The top 3 is completed by another Speysider. Macallan have experienced a huge burst of popularity over the last couple of decades and has become the epitome of luxury. Strongholds include the USA and Asia where its ex-sherry cask matured whiskies are highly regarded.
There are few brands with such an extensive range, or one that caters for so many differing budgets. More recently it has been James Bond's Scotch of choice, especially during the Daniel Craig era.
A delicious rich, soft and sweet single malt.
Talisker
The other peaty whisky to make the top 10. Talisker, from the rugged island of Skye off the west Highland coast, is known for its bold, peppery and smoky whiskies. The distillery uses the tagline 'Made By The Sea' in its marketing and you can taste it – think of seaweed, brine and moss all married together to create a perfect coastal experience.
Talisker is one of Scotland's most visited distilleries despite being one of the remotest. A lovely core range pushes this malt in different directions and shows that smoky whiskies can be versatile.
Buy now at The Whisky Exchange
The Singleton
There is no distillery named The Singleton in Scotland, but the brand is one of the biggest selling single malts and continues to grow and push into the top 5.
The range is made up of whiskies from three distilleries: Dufftown and Glendullan in Speyside, and Glen Ord in the north Highlands. Each is sold in a different market to cater for different tastes – UK and Europe, North America and Asia respectively.
The packaging is elegant and distinctive with coloured glass and a slim decanter-style bottle. Soft, sweet and fruity.
Buy now at The Whisky Exchange
—
*Source – The IWSR 2021.